I don't need to rewrite the constitution to say man and woman. I don't need to comment on facebook posts that I find offensive. But sometimes those get me thinking. So last week or so ago a survivor friend posted her anger about a photo which was a profile shot of a woman with a tee shirt on and no bra and the caption read(stop here if you are going to be offended talking anatomy) --breasts without nipple have no point. I am sure the writer/poster didn't realize he might offend some of us survivors. I was surprised at my own reaction since I am so ambivalent about nipple reconstruction. But it did bug me. Ridiculous I suppose but some thing I needed to think about further. Here is what I came up with. So there are several artists who have done projects with survivors. One is a body painting series which is fantastic. Painted torsos called the Breast Cancer Awareness Body Painting project-- see the example --love the phoenix!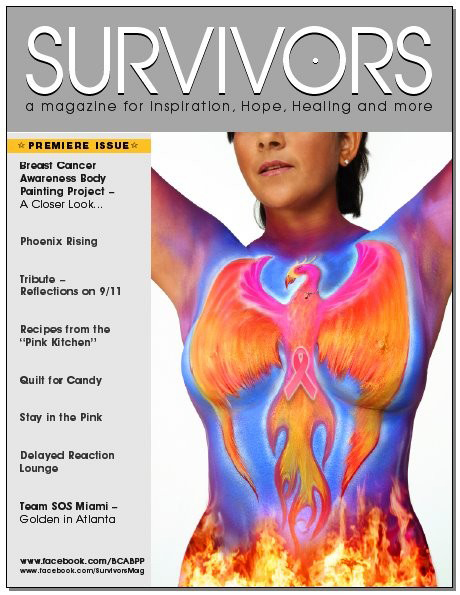 I appreciate this because they are all so different and project strength and fearlessness.


another is called The scar project which is pics of women half naked who have had mastectomies and not necessarily construction though some have. I find these photos disturbing and poignant.

I saw one other that I can't remember the name of. It was a coffee table book.

All of a sudden the actress came out in me. I have a photo to take. Maybe several but they include no nudity whatsoever. None of the photos will have nudity but they need to be crash bang sexy in the 1940's pinup way and only taken of breast cancer survivors. To show them at their most beautiful and sexy and then reveal at the end of the book that everyone of the women in it have had mastectomies and various amounts of rebuilding. Mine will be of me wrapped in an emerald green and pink sari I have had since I was 16. We are beautiful, we are strong, we are sexy. that is it. that is the truth. As long as we are alive we have not given up...not one of us.

So here it is--I will ask my friend Dana to take a photo of me when she is in my neck of the woods. And it will be fantastic and maybe make people talk or maybe it will be just for me to look beautiful and alluring in one photo rather than just running around with my kids makeup-less and laughing. I used to have pictures taken all the time. I was an actress--the headshots counted. Now it is just for me. Like this one taken long ago by Nancy Ellison.